Parking outside school
Parking outside school
4 May 2021 (by Emma Fisher (Emma))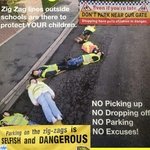 Please can we remind parents/guardians NOT to park on the yellow zig zag lines outside of school when dropping off or collecting children from school. We understand that parking around school is difficult and some families may need to park a little further away and walk but it is necessary in order to keep our children safe!
Parking on the zig zags is both dangerous and selfish. Please don't do it!
Thank you for you cooperation.